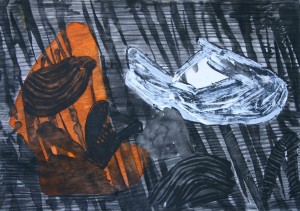 Soft back from black   2008-2010
Schilderijen, lavis, batik, tekeningen en grafiek. Deze reeks werken zijn gemaakt in 2008-2010.   Paintings, washes, batik, drawings and prints. This series of works created in 2008-2010.
Zij zijn geïnspireerd op het water, de rotsen, kiezels en de oevers van de Sermenza rivier in Noord-Italië (Cerva di Rossa-Varallo- Vercelli). They are based on the water, rocks, gravel and Sermenza the banks of the river in northern Italy (Cerva Rossa di Varallo-Vercelli).
Meestal vonden zij hun basis daar en werden ze afgewerkt in het atelier in Bredene.
De hele reeks wordt opgesplitst in drie categoriëen:    Black   –   Back from black   –   Soft back   maar vermengd vertoont.The whole series is divided into three categories: Black – Back from Black – Soft back but mixed exhibits.
3 x lavi     63/90 cm
8 x lavi, inkt en potlood  60/30 cm
2 x   lavi, pastel 56/38 cm
4 x  black line  lavi, gekleurd potlood, 50/70 cm
2x back from black   62/90 cm
2 x back from   56/76 cm
vlak en houtdruk 1/1           56/76 cm
hoogdruk 70/2.44 cm                              56/76 cm
4 x 56/76 cm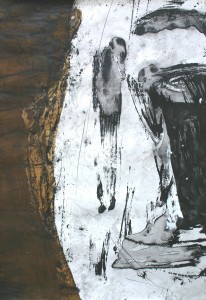 black/brown   63/90 cm

     de zes van rossa, lavi 1.50/6 meter